Shackelford House
Boscobel, a Greek revival home was built by Thomas Shackelford Jr. Shackelford was born in Saline County in 1822 to settlers from Tennessee. He studied law and came to Glasgow as an attorney. By the age of 30 he was a stockholder in The Exchange Bank and owned a 700-acre plantation, raising livestock and grain.
in 1851 he married Sarah Harrison, and in 1859 they built Boscobel. The name comes from the French words bosque, meaning wooded lawn, and Belle,  meaning beautiful.
The house was designed so that eight rooms each exactly 16 sq. ft opened into the main corridor, which ran the full length of the house. Damask and velvet curtains, decorative artwork, and a curved stairway graced the interior.
In the civil war it became dangerous for Shackelford to remain in Glasgow. He moved to St Louis and returned shortly before the Battle of Glasgow in 1864. The cellar in Boscobel provided a refuge for townspeople seeking safety during the fighting.
The house also set the scene for happier occasions. Between 1883 and 1930, when Presbyterian Minister C.C. Hemenway and wife lived there, hundreds of wedding ceremonies were performed in the library.
Boscobel has remained in possession of the Shackleford's descendants.  In the 1950s his grandson Jack Harrison Denny and his wife Elaine restored the home.
The home has kept its historic charm and character, which is noticed in the carpet and wallpaper she kept in the entry foyer and up the stairs.
Excerpts from: Vol. 15 no. 2 — Summer 2016 Boone's Lick Heritage Quarterly, Boone's Lick Historical Society Periodical Guided Tour of Historic Glasgow Book–A Picturesque River Town, 1983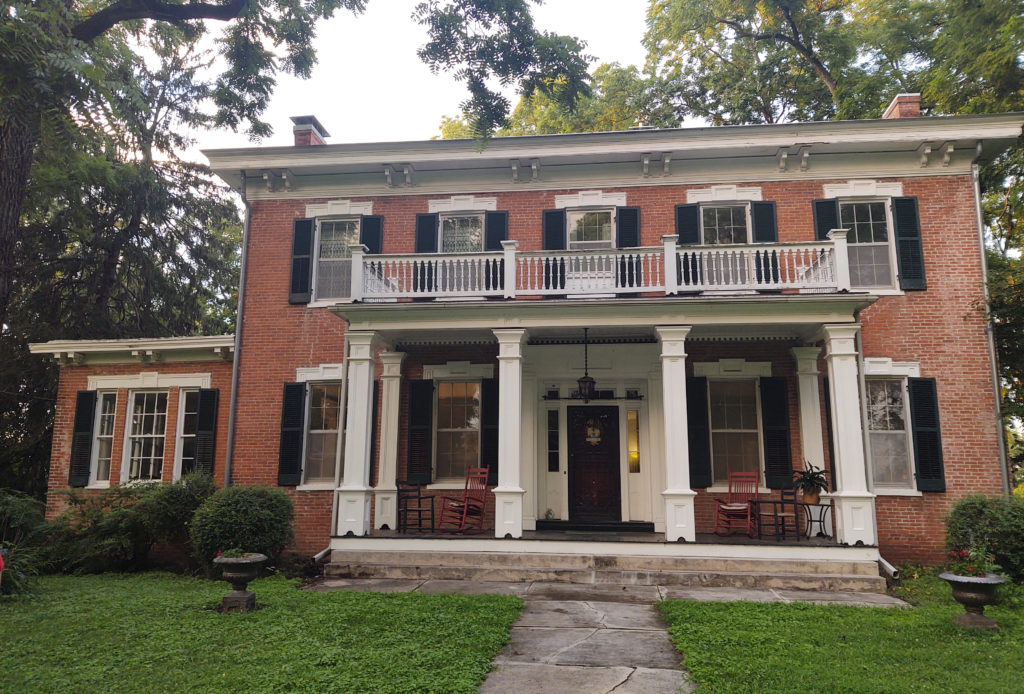 Our Shackelford House Karbelle Forever Gifts